CMSA presents…
Sin City Mounted Shooters
Congrats to our new SCMS 2022 Executive Board
YOUR LOCAL MOUNTED SHOOTING CLUB FOR LAS VEGAS


Please visit the official CMSA Web Site for information about Mounted Shooting, the fastest growing equine sport in America!

Have you been hearing about mounted shooting? Or reading about it in Western Horseman and Western Shooting Horse magazines? This is your chance to experience a piece of the old west, so strap on a pair of Colt 45 Single Action Army Peacemakers, jump on your horse, and call Sin City Mounted Shooters (SCMS) -- your local Las Vegas Mounted Shooting Club, at one of the numbers listed below.
Beginning January 28th, 2018, each participant MUST be an Associate or Full Member of CMSA to enter the event or warm-up arenas on the day of a match or practice. See the CMSA Website Link for instructions on becoming a CMSA Member.
SCMS Membership Application 2020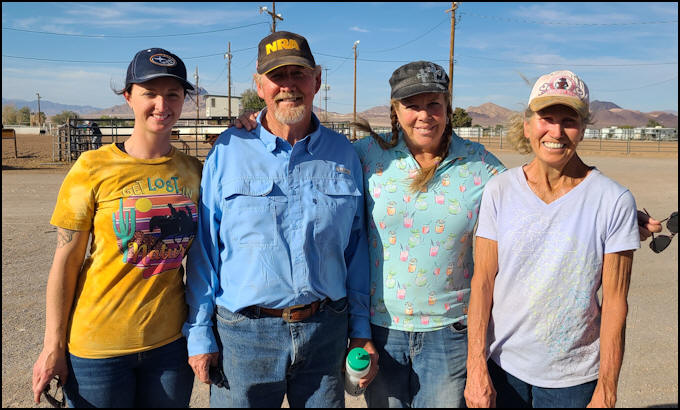 SCMS Executive Board (Left to Right)
Danielle Litchfield (President), Steve Martin (Vice President), Diane Holmes (Secretary), Trudy Lawrence (Treasurer)